SHRAGA HERSTIK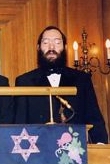 Shraga, born in London, is the son of cantor Naftali Herstik of the Jerusalem Great Synagogue (formerly of Finchley Synagogue).
Shraga's tremendous musicality was revealed at a very tender age, when he would follow an instrument through a symphony or an opera.
21 years ago, at the ceremonial opening of the magnificent Jerusalem Great Synagogue, Shraga's heartfelt and artistic singing left the crowd of thousands mesmerized, an effect that his singing had on audiences whenever he sang.
His unique hazzanic ability came to its peak when at his Barmitzva he led the services in the packed Jerusalem Great Synagogue, accompanied by the choir under Elli Jaffe, and attended by some of the great hazzanim of our time. Shraga's deep understanding of the prayers and rare ability of interpretation and feeling, brought the congregation to tears.
Later, whilst receiving a wide and varied Yeshiva and secular education and serving in the Israeli army, Shraga has pursued his love of music, graduated from the Tel Aviv Cantorial Institute, plays a number of instruments and he is today a sound and recordings engineer by profession.
Shraga, a possessor of a warm lyric tenor voice with an immaculate coloratura, conducted High-Holiday services for some years in the north of Tel Aviv, as well as in Sydney-Australia and this year in the Southgate&Cockfosters United -Synagogue in London..
An accomplished chazzan in his own right, Shraga has deputized for his father in the Jerusalem Great Synagogue on numerous occasions. Shraga is a popular lecturer at the Tel Aviv Cantorial Institute. Shraga has a vast concert- repertiore and performed in concerts in Israel and Europe and thus proved that the glorious family tradition lives on.